Our Team Drivers Deliver Faster
When it comes to OTR trucking, long routes across the country can take a significant amount of time. Team driving allows drivers to work in shifts, allowing for quicker and more reliable long haul trucking services as this method doubles the amount of time a single truck can spend on the road.

At RRR Transportation, we take advantage of the benefits that team driving offers by providing team services for all of our long haul and OTR routes. To learn more and to request a freight quote for team service, contact us online or by phone today.
Why Team Driving Matters
Recognizing the dangers of sleep deprivation, there are a variety of specific federal highway regulations that have been established to keep truck drivers as well as other vehicles on the road safe. Among these rules are specific timetables that drivers are required to rest in order to stay alert for their safety and the safety of others. This important requirement usually means pulling over to sleep for ten hours at a time.
However, by utilizing team drivers, drivers get the added benefit of having two drivers in one truck. This means that one person drives while the other rests. Team drivers comply with all highway regulations regarding rest, but do not have to stop for the night. As a result, team driving gets goods delivered in half the time without compromising safety.
Benefits of Team Drivers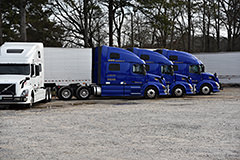 Faster Deliveries: Undeniably, you would be able to get more done in a day if you had someone take over while you slept. This is the entire idea behind the team driver approach. Our trucks double their time on the road each day without compromising safety, and therefore, you get your deliveries in half the time.
No Truck Transfers: In some cases, trucking companies attempt to shorten long haul delivery times by switching out goods from one truck to another when a driver has completed his given route. This means that goods may experience multiple loadings and unloadings before they even reach their destination. All of that unpacking can increase the chance of damage.
Safer Drivers: On long haul routes, drivers often find themselves in a race against the clock to meet driving regulations and time limits. When there is no need to break safety rules to meet deadlines there are less accidents. Our system allows for rest when it is needed without sacrificing our clients' precious time.
Happier Drivers: Driving across the country on interstate highways can be lonely and exhausting. Our teams are often spouses who can keep each other company on the long rides. With more driver satisfaction, we are able to retain qualified drivers for our trucking services.
Learn More About Our Team Service for Long Haul Transportation
To learn more about how our team drivers can benefit you and how we can meet your transportation needs with refrigerated and OTR trucking services, contact us online or by phone today to request freight quotes for all of your transportation and trucking needs.