The Best in Refrigerated Trucking Companies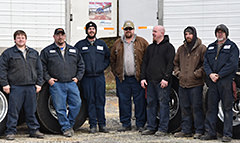 RRR Transportation is one of Georgia's best refrigerated trucking companies for long haul refrigerated shipping. When you ship refrigerated goods with us you not only get the most experienced drivers in the business, you also get the newest, most well maintained trucks and trailers on the road, which helps ensure safe, timely, and reliable delivery for all of your refrigerated trucking needs.
To learn more about our services or request freight quotes for refrigerated trucking services for your temperature sensitive products, contact us online or by phone at 800-472-4714 today.
Goods that Our Refrigerated Trucking Company Can Ship
As an expert refrigerated trucking company, RRR Transportation can safely and quickly ship all types of temperature sensitive goods on long haul routes across the country. This includes the following:
Baked Goods
Chilled Foods
Confectionary Goods
Dairy Products
Deep Frozen Goods
Film
Floral Goods
Frozen Foods
Frozen Vegetables
Juices
Meats
Medical Supplies
Pharmaceuticals
Plasma
Poultry
Powder Coating
Fresh Produce
Seafood
If you need to ship any of the above items or any other refrigerated or temperature sensitive goods, contact our refrigerated trucking company today to request a freight shipping quote or learn more about how we can help.
One of Few Full Service Refrigerated Trucking Companies for Long Haul Service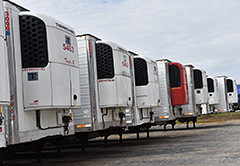 RRR Transportation is a leader among refrigerated trucking companies, operating long haul routes between Georgia and the Southeast to California and the Pacific Northwest. These long haul trucking routes can be complicated for a number of reasons. Different states have varied driving laws and it takes an expert to understand and comply with all of them. Additionally, the diverse climates of mountain and desert states can be hard on both equipment and drivers.
We solve both of these problems by only hiring experienced drivers and using reliable late model trucks and trailers. Refrigerated trucking companies need to pay attention to caring for and maintaining their equipment. Harsh road conditions are bad enough for the trucks, but when it comes to temperature sensitive goods truck problems can quickly become cargo problems. This is why RRR Transportation ensures that we service and check every truck and trailer after each trip. Scheduled maintenance is performed regularly in-house and any problems are located and solved before the truck is back on the road. This results in fewer breakdowns, more on time deliveries, and less chance of spoilage for your temperature sensitive goods.
A Refrigerated Trucking Company Saving You More with Efficient Trucking Service
With the extra costs associated with refrigeration, it is important for refrigerated trucking companies to do what they can to save time, fuel, and money, allowing for cost effective and efficient freight transport. RRR Transportation is a proud Smartway Carrier and we have been named as one of Heavy Duty Trucking Magazine's Top 50 Green Fleets for two years running.
We are committed to using the most advanced aerodynamic and fuel saving technologies available. Our trucks and trailers are engineered to offer efficiency and performance. Therefore, you can rest assured that tour products can be delivered quickly, safely, and at an affordable cost.
Learn More About Our Refrigerated Trucking Company
If your business requires frequent shipping of temperature sensitive materials, products, or produce it is important that you have a refrigerated trucking company that you can trust. You need a company that uses the best drivers and the best technology to keep things cold and moving. Contact us at RRR Transportation today to request a freight shipping quote and to learn more about our refrigerated long haul service.