Requirements & Qualifications for Our Trucking Jobs
RRR Transportation currently has trucking jobs available for experienced team drivers in the Southeast who are dedicated to safety and customer service. Contact us to learn more about our trucking jobs in Georgia or fill out our truck driver job application online if you qualify.

Trucking Job Qualifications
Established Teams: We rely on team drivers for all of our deliveries. Our trucking jobs are available to established teams who have worked together before. Team drivers spend a lot of time together, and it is important that they work well together and can accomplish goals together.
Class A CDL: Each driver in the team must have a valid Class A CDL. This is the minimum allowable license for driving a tractor trailer.
2 Years OTR Experience: At RRR Transportation, we specialize in long haul transportation, carrying goods on routes that are over 2,500 miles from Georgia to the West Coast. Because we guarantee our customers the best treatment and most on-time deliveries, we require that our drivers have a minimum of 2 years verifiable over-the-road experience.
Clean Motor Vehicle Record: Here at RRR Transportation, safety is a top priority. We do everything in our power to keep our Volvo 780 trucks and trailers in top shape, and we want to provide our trucking jobs to drivers with the same level of care for their truck as we have. Therefore, we require that all drivers have a clean driving and motor vehicle record.
Location: Our trucking jobs are available to driver teams from throughout the Southwest including Georgia, Florida, Alabama, Tennessee, North Dakota, and South Dakota.
The Best Benefits for the Best Drivers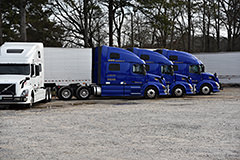 We expect a lot from our drivers, but we also offer our drivers a lot in return. All of our truck driver jobs offer a $5,000 sign on bonus split between the team. Additionally, we offer drivers competitive pay and promise drivers an average of 20,000 miles per month, allowing them to rack up miles for the best pay. We offer full benefits to our drivers including health insurance with vision and dental.
Learn More About our Trucking Jobs
If you have the same high standards for yourself as we do and you take pride in helping build strong businesses like we do, then we want to work with you. Fill out our truck driver job application online today if you meet our qualifications and are interested in our great benefits.
If you have questions or would like to learn more about our truck driver job opportunities and the benefits available, contact us today online or by phone at 800-472-4714. We are very happy to answer any questions you have about our trucking jobs.