Now Hiring for Truck Driving Jobs
RRR Transportation is hiring immediately for experienced truck driver teams. Truck driving jobs at RRR Transportation are among the best in the country because of the great lengths we go to treat our drivers well. If you are part of an existing driver team and are looking for a company that offers great benefits and the opportunity to rack up long miles, fill out our truck driver job today to get on the road with the best long haul company in the Southeast.
Why Choose RRR Transportation's Truck Driving Jobs
At RRR Transportation, we are looking for only the best drivers, and we know that in order to attract the best, we must make sure our drivers get the best treatment. Our drivers get the best benefits and drive our company owned late model Volvo 780 trucks. All trucks and trailers are maintained weekly to prevent breakdowns and unexpected hassles out on the road. We offer "no touch freight" and promise our drivers long routes, with most routes being at least 2,500 miles.

Company Owned and Maintained Trucks
All Late Model Volvo 780's
APU/Inverter Equipped
PrePass/NorPass Equipped
Automatic Transmissions
Weekly In-House Maintenance
About Our Company
We are a Smartway Carrier. This means that everyone who accepts our truck driving jobs drives the most efficient and aerodynamic trucks on the road. Efficient trucks mean reduced fuel costs and these fuel savings can result in higher pay for our drivers.
We maintain great CSA Scores. We make a point to only hire experienced drivers with clean motor vehicle records. This high standard means our fleet is run by the best in the business, which has allowed us to avoid excessive and time consuming DOT inspections.
We believe in team driving. With our team truck driving jobs, drivers can drive longer routes quicker, allowing them to drive more miles and make more money out on the road.
Long haul really means long haul. We primarily operate routes that run from Georgia to the Pacific Northwest before returning to the Southeast. All of our routes average a minimum distance of 2,500 miles, and drivers can expect over 20,000 miles per month. Your time behind the wheel will be well spent, and your paycheck will be the proof!
Great Pay and Benefits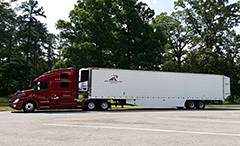 401k with company match
Drivers average over 20,000 miles per month
Full insurance including medical, dental, and vision
$5,000 sign on bonus for each new team
Pet Friendly
Contact us to Learn More About Our Truck Driving Jobs Today
If it is time you had a truck driving job offering real miles, real pay, real benefits, and real freedom, fill out our truck driver job online today so we can get you behind the wheel of one of our Volvo 780's.
You can also learn more about the Pay & Benefits for our truck driver jobs and our Trucking Job Driver Qualifications by contacting us or browsing the information available on our website.