Our Truck Driver Job Application
At RRR Transportation, our truck driver jobs offer drivers the opportunity to rack up miles driving long haul routes across the county. If you think that one of our truck driving jobs may be right for you, apply today to start the next step in your career!

If you have questions or would like to learn more about our trucking jobs in Georgia, contact us online or by phone today.
Reasons You Will Love an RRR Transportation Truck Driver Job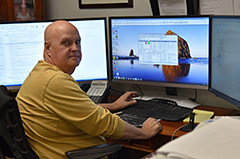 Team Drivers: Every truck driver job at RRR Transportation is a team driver job. As an experienced trucker, we do not have to tell you about how frustrating it can be to have to stop for the night just when traffic or weather are turning in your favor. You also know how important rest is to the safety of yourself and others on the road. By using teams, we eliminate the need for stopping without eliminating safety. A trucking job with RRR means you will never be alone on the road, and you will not have to worry about getting the job done right.
Long Haul Trucking: At RRR Transportation, our focus is on long haul trucking. Located in Georgia, our company hauls goods between Georgia and the Pacific Northwest. All of our routes are long haul, and the average trucking job is over 2,500 miles. Big miles equal big paychecks for our drivers. Few other truck driver jobs will offer as many long haul round trips as RRR.
State of the Art Equipment: Our drivers operate our fleet of company owned trucks, all brand new Volvo 780s. These come equipped with automatic transmissions, power inverters, and the latest in aerodynamic technology. Each truck is serviced weekly and maintained by our in-house mechanics so our drivers can rest assured that they can complete routes without breakdowns and delays.
Safety and Efficiency: We are committed to safety and expect our drivers to be as well. We have an outstanding CSA rating, so our drivers are not bogged down with unnecessary DOT inspections. We are also a proud Smartway Carrier, which means we are committed to using the latest and most efficient technology to ensure our trucks are the most efficient on the road.
Best Truck Driver Job Benefits: We want the best drivers and we know that getting and keeping the best for our truck driving jobs means offering the best benefits. We offer all new teams a $5,000 signing bonus and competitive pay. Our drivers usually get about 20,000 miles per month and paychecks to match. Additionally, our truck driver jobs offer full health insurance benefits including vision and dental.
Apply for a Truck Driving Job with RRR Transportation Today
If you are ready to get on the road with a company that promises tens of thousands of miles per month in the cab of the most advanced trucks, complete our online truck driver job application today. As far as truck driving jobs in Georgia, no one can give you more than RRR Transportation.