A Full Service Trucking Company for Complete Trucking Services
When it comes to your transportation needs, it is important you can find a trucking company that you can trust. At RRR Transportation, we are a full service trucking company primarily specializing in long haul routes from the Southeast to the Northwestern United States. We transport loads such as building materials and flooring from Georgia to the Northwest as well as fresh produce from California. But, our trucking services do not stop there, we can also provide a wide range of services including long haul and refrigerated trucking for all types of goods and commodities. Contact us today for a freight quote and learn more about how we can help.

Our Specialized Trucking Services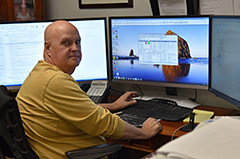 Learn More About Our Trucking Services
If you are interested in any of our trucking services or would like to learn more about what sets us apart from other trucking companies in Georgia, call us or contact us online today to request a freight shipping quote.