Georgia Based Long Haul Trucking Company
RRR Transportation is a full-service long haul trucking company based out of Calhoun, GA. We typically carry textiles, lumber, and building materials from Georgia to California and the Pacific Northwest and carry produce and other temperature-controlled goods in return trips. However, no job is too small or too large for us to handle. We hire only the most experienced drivers who are well versed in the ins and outs of long haul trucking, allowing us to provide the best and most reliable OTR trucking service. Contact today to request a freight quote and to learn more about how we can meet your long haul transportation needs.
Our Long Haul Trucking Experience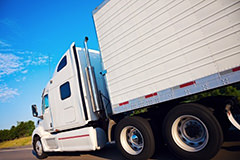 At RRR Transportation, we believe that customer satisfaction is the cornerstone of our business. In the business of long haul freight shipping, nothing is more important to our customers than being able to rely on safe, timely deliveries. There is nothing that can assure a perfect delivery better than an experienced driver. Therefore, we recruit drivers with real long haul trucking experience.
Only drivers who have traveled thousands of miles across the country have the level of preparation and knowledge that we insist on for our team. Our long haul routes typically extend from Georgia to California or Washington, and our drivers have experience traveling these routes ensuring that they can provide reliable service every time.
The Best in Long Haul Trucking Technology
In addition to hiring only the most experienced drivers, we also provide the best and latest technology and equipment for our drivers to help them deliver on all long haul trucking routes.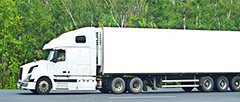 All of RRR Transportation's trucks are late model Volvo 780s with automatic transmissions. These trucks are fuel efficient and are maintained weekly to prevent unexpected breakdowns and delays.
We inspect our equipment regularly. As each trailer completes a roundtrip long haul trucking delivery, they are sent to the shop for a complete inspection before being allowed back on the road. This allows us to guarantee there will be no problem with safety features and refrigeration units keeping your goods safe and fresh.
Every load we carry is 100% tractable in real time. Each truck and trailer is equipped with advanced GPS responders, and we provide software that allows you to log in wherever you have Internet access to see where your load is at all times. This takes the guesswork out of long haul trucking, as you will always know when your delivery is going to be made and can make plans accordingly.
Learn More About Our Long Haul Trucking Services
At RRR Transportation, we believe that experience makes the difference between an on-time shipment and a late one. All of our drivers have had long haul trucking experience before we ever hand them the keys to one of our trucks. These experienced drivers along with our fully maintained fleet means you do not have to worry about breakdowns or delays. Contact us online or by phone today to request freight quotes and to learn how we can help get your long haul shipments where they need to be.