Contact RRR Transportation for Trucking Jobs & Freight Quotes
As a leading trucking company based out of Calhoun, GA, RRR Transportation has a lot to offer to both customers and drivers alike. We operate long haul routes across the country from Georgia to the Pacific Northwest. We hire only the best team drivers with experience to prove that they can deliver, and we reward our drivers with great pay and benefits packages to ensure that we keep the best. Our drivers operate our company owned fleet of late model trucks and trailers, and we are committed to using the newest technology to offer the best in fuel efficiency, resulting in savings that are reflected in our freight quotes. To learn more about our company and to begin working with us, contact us using the information below.

Please fill this form to contact us.
RRR Transportation
1195 Mauldin Rd.
Calhoun GA, 30701
Phone: 800-472-4714
Request a Freight Quote
When it is time to grow your business, it is time to think of new markets and that means shipping. Whether you are sending new products to customers in California, or looking to beef up your supply lines in Colorado, RRR Transportation can get you there. Request a freight shipping quote today by completing our online freight quote form or contact us with any questions about how we can meet your transportation needs.
From long haul transportation of dry freight to refrigerated and temperature controlled produce, we are here to help. Our routes typically begin in Georgia and end in the Northwest. For return trips, we can carry produce as well as a variety of other types of goods back across the country. Contact us today to request freight quotes for any of our services and to learn more about what sets our trucking company apart from the competition.
Learn More About Our Truck Driving Jobs
We are always looking for the best team drivers to join the RRR Transportation team. When we offer freight quotes to our customers we want them to know that we have the right people behind the wheel to get the job done. Therefore, we require all drivers to have a minimum of two years OTR experience and a clean driving record. In order to retain the best drivers, we offer great benefits such as competitive pay, health insurance, and a $5,000 sign on bonus for driving teams.
What We Look for in Our Drivers: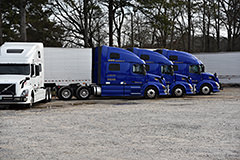 Established Team Drivers
Class A CDL
2 Years OTR Experience
Clean Motor Vehicle Record
Commitment to Safety and Dependability
To learn more about our truck driving jobs in Georgia call us today or complete our truck driver job application.