Truck Driving Jobs in Georgia
No other job provides the level of freedom, opportunity, and job security that trucking jobs do. Companies will always rely on trucks to move products and supplies, and when you are the one behind the wheel, you have the freedom to get the job done your way.

At RRR Transportation, we have trucking jobs in Georgia available for qualified and dedicated team drivers. If you are interested in joining our team, fill out our truck driver job application online today to begin the process of starting your career with RRR Transportation today.
Benefits of Our Trucking Jobs in Georgia
Our truck driving jobs offer a number of great benefits to team drivers. These include:
Long Routes: We primarily operate long haul routes from Georgia to Colorado, California, and the Pacific Northwest with return trips to locations throughout the Southeast. Trips average over 2,500 miles, and drivers can expect at least 20,000 miles per month. Big routes and big miles mean big paychecks.
Great Benefits: We expect a lot of our drivers, and we know they expect a lot of us. That is why we provide a wide range of benefits including great pay, 401k matching, and full medical insurance to all of our drivers.
Well Maintained Company Owned Trucks: Our company owned fleet includes all late model Volvo 780s equipped with automatic transmission, APU, and inverters. Each truck is sent to our in-house mechanics weekly for inspections, maintenance, and necessary repairs. Trailers are equipped with the latest in aerodynamic technology, which not only helps us pass on fuel savings to clients; it makes the trailer smoother to haul.
Qualifications for Our Trucking Jobs in Georgia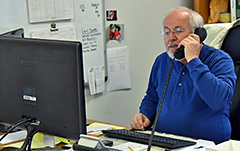 For all of our truck driving jobs in Georgia, RRR Transportation requires a Class A CDL.
We require candidates to have at least two years OTR trucking experience in order to provide our customers with the safest and most consistent deliveries. We know that tasks faced in long haul trucking can be challenging, and therefore, we require drivers with the expertise to get the job done.
Our trucking jobs in Georgia are available only to established team drivers. We rely on the team driving system because it allows our drivers to focus on getting the job done rather than on figuring out when and where to rest. Consequently, team driving also allows our drivers to rack up more miles and complete jobs more quickly. It is important that teams know how to work well together so we believe that prior experience, as a long haul team is essential.
We consider safety a top priority, and therefore, we require all of our drivers to have clean motor vehicle records.
Based out of Calhoun, GA our trucking jobs are available to drivers living throughout the Southeast including in Georgia, Florida, Atlanta, Tennessee, North Carolina, and South Carolina.
Learn More About Our Trucking Jobs in Georgia
If you think that our trucking jobs in Georgia may be a good fit for you and you would like to join our teams, complete our application for a truck driver job online today. If you have questions or would like to learn more about our trucking jobs, you can call us at 800-472-4714 or send us your questions online.