Truck Driving Jobs in North Carolina
If you are looking for truck driving jobs in North Carolina then you are in the right place. Truck drivers have some of the most secure jobs on Earth. Many businesses need products or raw materials carried to markets or assembly lines regardless of what the economy is doing. Truck drivers also get the great opportunity to see expanses of this beautiful country every day they go to work.

At RRR Transportation, we are currently hiring experienced team drivers for trucking jobs in NC. Our routes include long haul routes from the Southeast to the Pacific Northwest. We can guarantee drivers the long miles they want as our routes are typically at least 2,500 miles. To apply online, fill out our truck driver job application today or contact us to learn more.
Qualifications for Our Truck Driving Jobs in NC
The basic qualifications for our trucking jobs include:
Class A CDL and clean motor vehicle record - We have a great CSA score, and we plan to keep it by hiring safe drivers. Keeping our score up means life is easier for all of our drivers, as we are not overburdened with DOT inspections
Two years OTR trucking experience - RRR Transportation promises our customers excellent service and on time deliveries. We keep our promises because we hire experienced drivers who can complete long haul routes without extra hassles or delays.
Established teams – We utilize team drivers for all of our long haul routes as this allows us to complete deliveries faster for clients. It also benefits drivers as they can build up more miles in less time. As team driving also has its challenges, we only hire experienced driving teams.
If you meet or exceed these qualifications, contact us today to apply for our truck driving jobs in NC.
Benefits of Our Trucking Jobs in North Carolina
Because we expect a lot from the drivers we hire for our trucking jobs in North Carolina, we are proud to give a lot in return. We believe that we keep the best customers by keeping the best drivers. Our benefits include: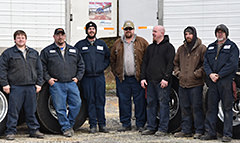 $5,000 sign on bonus for each team
401k with company match
Health insurance which includes medical, dental, and vision
Pet friendly cabs, your dog can ride along
Long Routes - Most of our routes run to the Pacific Northwest and drivers can expect 20,000 miles or more each month. Big miles equal big money!
New trucks and technology – We operate a fleet of late model Volvo 780s with automatic transmissions, APU, and inverters. We are a Smartway carrier and take advantage of the latest aerodynamic technology, making our trailers smoother to haul and adding savings we pass on to the customer.
Apply Today for Our North Carolina Truck Driving Jobs
If you are interested in joining our team, complete our truck driver job application online today. You can also call us at 800-472-4714 or contact us online to learn more about the benefits of our truck driving jobs in North Carolina.