Truck Driving Jobs in South Carolina
Truck driving jobs in South Carolina are among the most secure and empowering in the region. The Southeast produces lumber and goods that are shipped across the country, and there are always plenty of routes for experienced drivers.

RRR transportation is currently hiring experienced team drivers for long haul routes, usually over 2,500 miles, across the country from the Southeast to the Pacific Northwest. To apply for our trucking jobs in South Carolina, complete our online truck driver job application today or contact us online or by phone at 800-472-4714 to learn more.
Qualifications for Our Truck Driving Jobs in SC
At RRR Transportation, we offer our truck driving jobs in South Carolina to the best drivers from throughout the region. Our service to our customers is the cornerstone of our business, and we hire only expert drivers who can help us maintain the highest caliber of service.
We are looking for drivers who:
Have a Class A CDL
Have at least two years verifiable OTR trucking
Are experienced team drivers
Have a clean driving record
Benefits of Our South Carolina Truck Driving Jobs
Because we expect the best, we provide the best. RRR Transportation offers many benefits to drivers, making our truck driving jobs in South Carolina some of the most rewarding in the Southeast. These benefits include: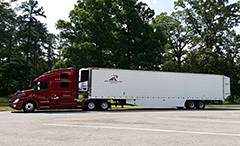 $5,000 sign-on bonus for teams
Long routes - We travel routes from the Southeast to Colorado, California, and Washington. Typical trips are at least 2,500 miles long, and drivers can expect 20,000 miles or more per month.
Great equipment - We inspect all of our company owned trucks and trailers after each trip. We want you to drive for us, not be stuck on the side of the road with breakdowns. Our in-house mechanics do everything possible to keep you on the road and ensure hassle free deliveries.
Latest Technology – All of our late model trucks and trailers make use of the latest aerodynamic technology, which reduces the fuel costs we pass on to customers and makes trucks easier to drive. We also use real time load management software to track trucks throughout each route.
401k with company match
Health insurance with medical, dental, and vision
Pet friendly cabs
No touch freight
Apply Today for Our Truck Driving Jobs in South Carolina
If you are an expert driver, already part of a strong team, and are ready to start earning good miles and great pay then our truck driving jobs in SC are right for you. Fill out our truck driver job application online, and you will hear from us soon. You can also call us at 800-472-4714 if you have any questions or would like to learn more about our South Carolina trucking jobs.