Over the Road Trucking Challenges
Over the road trucking is the lifeblood of the American economy. Not only do trucks carry goods from factory to market, they carry raw materials from suppliers to assembly lines. Even with trains and ships carrying ever-more cargo, trucks are still necessary to get most goods to their final destinations. However, over the road trucking jobs often translate to long and lonely hours on the road for drivers as well as a range of other challenges that can complicate an over the road driver's job.

Insight Into the Challenges of Over the Road Trucking
With years of experience, RRR Transportation has seen it all and is well versed in the types of problems that our drivers deal with on a daily basis. By understanding these problems, we are better prepared to help drivers handle them.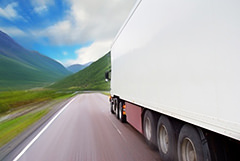 Time Away from Home & Family: One of the most common challenges faced by over the road truckers is the challenge of being away from home and family for extended periods. Over the road trucking typically means long routes alone traveling across the country. It can be difficult to adjust to this lifestyle especially for those with close families or young children. However, team trucking jobs often combat this feeling of loneliness as drivers travel with a partner who is often a spouse or family member.
Stress and Fatigue: Over the road trucking jobs can be very demanding on drivers. These jobs involve long routes and long days. Fatigue comes quickly, and when you are hauling 80,000 pounds, and a tired driver is a dangerous one. Drivers and companies need to do everything in their power to make sure that drivers are well rested, and team drivers are a good way to do that.
Weather: While hurricanes and tropical storms can delay ships, no other shipping method has to be as concerned about the weather as over the road trucking. Hurricanes and ocean storms can be predicted days before ships ever encounter them, but even the best radar and software cannot tell us exactly what is going to happen on the highway just a few miles in front of us. Drivers have to be tenacious, experienced, and skilled to handle the extreme weather variants that are a natural part of crossing the country.
Other Drivers: Another challenge of over the road tucking is often the other drivers you encounter on the road. You might be the best driver in the company, but there is little you can do to stop an 80,000 pound truck when another driver cuts right in front of you. This is where experience comes in. Experienced drivers can handle the challenges of other drivers on the road in order to complete their routes safely and without delays.
Apply for Over the Road Trucking Jobs with RRR Transportation
If you are up for the challenges that over the road trucking can throw at you and you are looking for the best in over the road trucking jobs, apply today for a job with RRR Transportation. You can fill out our truck driver job application online or contact us to learn more about our team truck driving jobs.