Work with One of the Best Trucking Companies in Georgia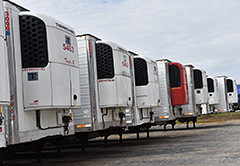 Moving freight is a complicated job. There is infrastructure to manage, vehicles to maintain, safety precautions to follow, and deadlines to be met. You need a trucking company fully invested in the 21st Century to keep everything together. As one of the leading over-the-road trucking companies in Georgia, RRR Transportation offers a number of benefits to drivers and customers alike. From a fuel-efficient fleet of late model trucks to real time load tracking, we make use of the latest technology to promise the best trucking service.
To request freight quotes for trucking service or to join our team, contact us today.
Our Advantages Over Other Georgia Trucking Companies
Advantages for Drivers
State of the Art Technology: One factor that sets us apart from the other trucking companies in Georgia is our fleet of company owned trucks. All of our trucks are late model Volvo 780s equipped with automatic transmissions and APUs for driver convenience. These trucks are thoroughly maintained to ensure dependability for our drivers out on the road.
Team Driving: We hire only experienced team drivers for all of our long haul routes. This allows drivers to rack up more miles, reduces fatigue, increases safety, and gets the job done quicker.
Great Compensation & Benefits: We offer excellent benefits and pay for all of our trucking jobs. We offer teams one of the highest sign on bonus of any trucking company in Georgia. We also provide benefits such as health, dental, and vision insurance, along with 401k matching.
Excellent CSA Rating: Our safety rating is above average, putting us well above most other trucking companies in Georgia. This means fewer hassles and stops on the road for our drivers.
Advantages for Customers
State of the Art Technology: As one of the top 50 green fleets in the nation, we are committed to fuel efficiency. We use the latest technology ensuring reliable delivery and resulting in fuel savings that we can pass directly on to you.
Real Time Load Tracking on All Shipments: Our trucks are thoroughly maintained, and equipped with the latest tracking software. Therefore, you will know exactly where your freight is at all times, which is crucial for long haul shipments across the country.
Smartway Carrier: Recognizing that the transportation industry is one of the biggest contributing factors impacting our environment, we take significant steps to conserve resources, and be environmentally friendly. As a Smartway Carrier, we are committed to constantly improving fuel efficiency and reducing our impact on the environment.
Extraordinary Customer Service: Our top priority is to ensure the best service for our customers. We hire only the best drivers and maintain our trucks to the highest standards in order to deliver the best possible experience to our customers for each shipment.
Learn More About What Makes Us One of the Best Trucking Companies in GA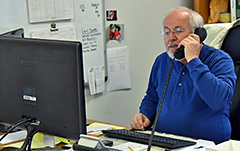 To learn more about what sets our company apart and what makes us one of the best trucking companies in Georgia, contact us today. You can request a freight shipping quote online for any temperature controlled, long haul shipment. For experienced drivers looking to join our team, complete our driver application or learn more about our truck driving jobs online.