Georgia's Best Trucking Company for Long Haul & Refrigerated Transportation
At RRR Transportation, we are a growing trucking company based out of Calhoun, Georgia. It is our passion to connect clients with materials and products essential to their businesses. This passion inspires us to hire the best driving teams and to retain the best talent using only the best equipment. We primarily run long haul loads in our refrigerated trailers from Georgia to locations throughout California, Colorado, and Washington.
If you need freight moved quickly and efficiently call us today for a freight quote. Or if you are looking for trucking jobs in Georgia with a long haul company that values its team members, fill out a truck driver job application online.
A Trucking Company Above the Rest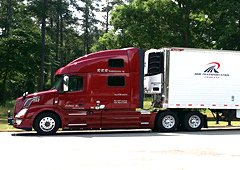 We take our commitment to fuel efficient transportation seriously. We have been voted of one of Heavy Duty Trucking Magazine's Top 50 Green Fleets for two years running. We take pride in this award because it encompasses our commitment to efficiently transporting goods for our clients and ensures that our drivers always have the newest and most advanced equipment. Our trucking company is a Smartway Carrier, which means we have access to and make use of the most fuel-efficient technologies available.
Comprehensive Trucking Company Services
From refrigerated to dry van trucking, our trucking company is proud to offer a comprehensive range of services. These include:
Our Drivers are Essential to Our Trucking Company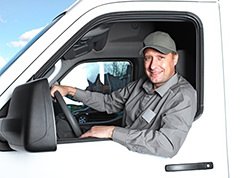 Our trucking company would be nothing without our skilled drivers. The technology we provide to make trips efficient and easily tracked by customers would sit useless without the most talented and focused drivers at the wheel. As a growing business, we are actively hiring experienced drivers who want to work for a long haul company that provides a productive team environment as well as all the newest technology available. If you would like to learn more about our truck driving jobs contact us or complete our application online today.
Learn More About Our Trucking Services
If you are looking for a trucking company that offers the most fuel-efficient technology and the most motivated drivers to handle your long haul and refrigerated shipments, then get in touch with us today to request freight quotes for your shipments. We put the best technology in your hands so you know exactly where your products are at all times. No other long haul company is as focused on their customers and constant improvement as we are.
Mission Statement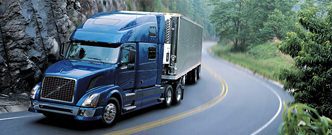 As a growing long haul trucking company based out of Calhoun, GA, our mission is to provide world class service by being sensitive to the needs of our customers and maintaining the highest standards of Safety, Environmental Consciousness, & Continuous Improvement.