Pay & Benefits for Our Truck Driver Jobs
At RRR Transportation, we are currently hiring teams for long haul routes from Georgia to the Pacific West Cost. From competitive pay to comprehensive benefits, our team truck driver jobs are some of the best in Georgia. Call us today to learn more about the benefits of our truck driving jobs or apply online with our quick truck driver application.

Our Truck Driving Job Benefits
Benefits available with our trucking jobs include:
$5,000 sign on bonus split between a team hired for a truck driver job.
Drive our fleet of late model Volvo 780s with automatic transmissions and APU inverters – all of these company trucks are maintained regularly and checked before each run to ensure our trucks keep running smoothly without breakdowns.
Outstanding pay and 401k with company matching option. We honor the years of service our drivers put in and are proud to be able to provide retirement matching.
All of our truck driving jobs include complete health insurance benefits with comprehensive health, dental, and vision insurance.
We are a pet friendly company, allowing drivers to travel with their dogs.
We keep our truck drivers busy and our long haul routes from Georgia to California and Washington, guarantee high-paying truck driver jobs.
Average loads travel 2,500 miles or more, so you will not be wasting your time on short in town trips and instead making big money on the long haul routes you want.
Our truck driver jobs promise team drivers over 20,000 miles per month.
Our services include "No Touch" freight, meaning all loading and unloading is completed for you as you wait.
PrePass and NorPass equipped on every truck to make your trips as smooth and efficient as possible.
All trucks and trailers are immaculately maintained as each truck and trailer receives routine maintenance and checkups once a week. This means you do not have to worry about breakdowns and delays out on the road.
We pride ourselves on having the safest drivers in the country and we maintain excellent CSA scores meaning our truck drivers are not overburdened with constant DOT inspections.
Learn More About the Benefits of Our Team Truck Driver Jobs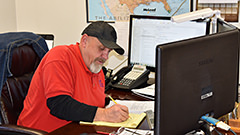 At RRR Transportation, we hire only the best, experienced team drivers and we treat all of our drivers with the respect they deserve. We understand that in order to attract top drivers, we must offer top benefits.
Our team truck driver jobs offer drivers a range of benefits while allowing drivers to make the money they desire with long routes across the country. Our team driving approach allows us to provide outstanding service to each client and allows our drivers to earn maximum pay during their time away from home.
If you are interested in our truck driving jobs and would like to learn more about the qualifications for our trucking jobs or to apply for a truck driver job, contact us today online or by phone.